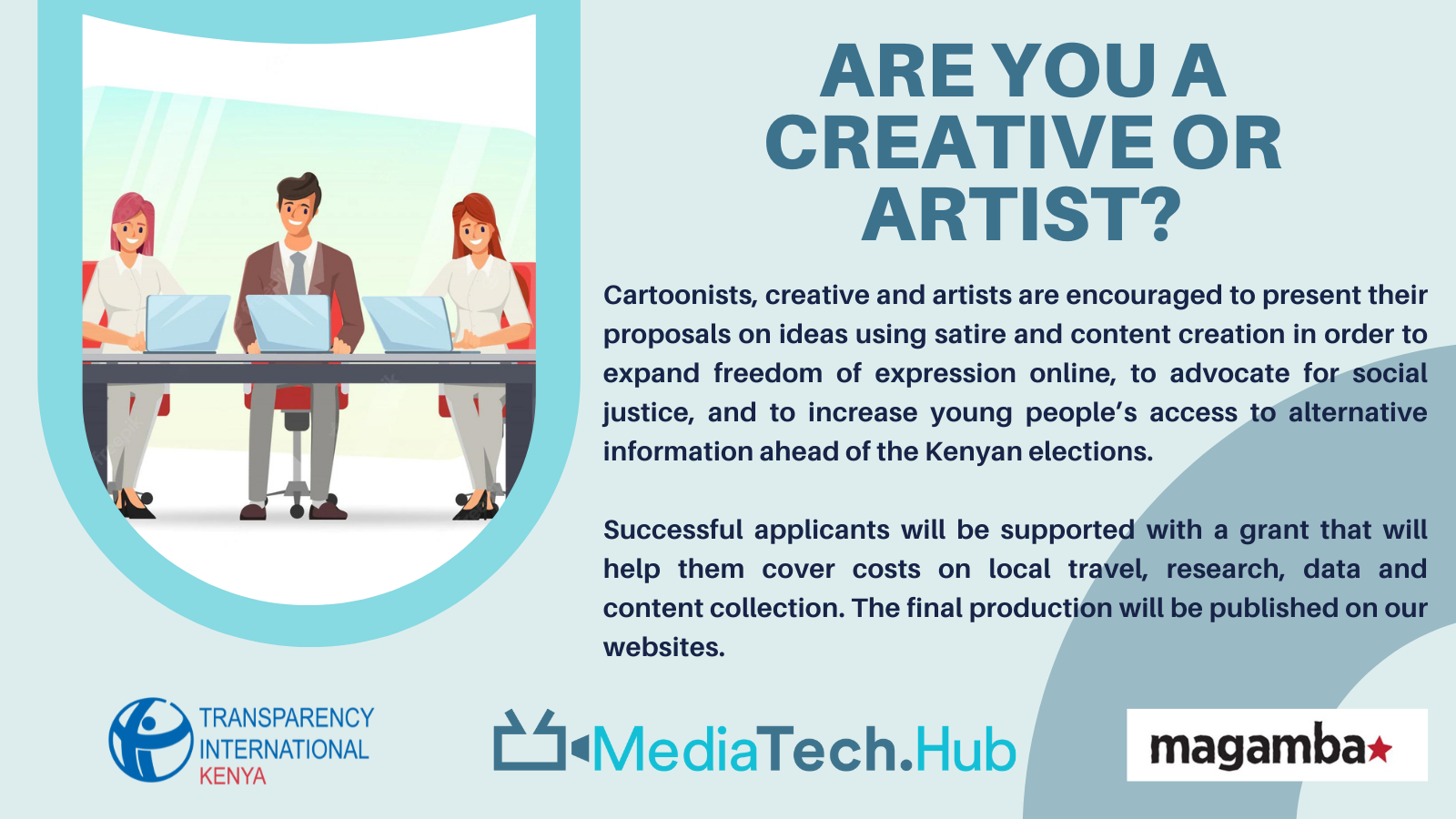 ORGANIZATION SUMMARY PROFILE
Transparency International Kenya (TI-Kenya) is a not-for-profit organization founded in 1999 in Kenya with the aim of developing a transparent and corruption-free society through good governance and social justice initiatives. TI-Kenya is one of the autonomous chapters of the global Transparency International movement that are all bound by a common vision of a corruption-free world. TI-Kenya's vision is "A corruption-free Kenya". The mission is to champion the fight against corruption by promoting integrity, transparency and accountability.
BACKGROUND AND SCOPE OF THE ASSIGNMENT
The Consortium for Human Rights and Media in Africa (CHARM) project supported by Sida and implemented by Fojo Media Institute and Civicus supported development of the Media-Tech Hub online platform. The Media-Tech Hub platform is an innovative space for positive social change using all forms of media. It brings together social change software developers/innovators and journalists to develop and harness the use of innovative solutions leveraging on use of technology and data to bring about transparency and accountability. Here, Journalists meet and brainstorm with innovators/software developers and jointly develop innovative solutions to address the gaps in achieving effective reporting on accountability issues affecting public service delivery.
Innovative solutions and tools from the Media-Tech Hub will be used for knowledge management, analysis and dissemination to provide ready content for use by Journalists, activists and social change actors. The solutions are geared towards promoting good governance, transparency and accountability in different sectors and at different levels of governance from within communities, nationally and regionally.
TI-Kenya is partnering with Magamba Network on the Expression Lab – a project to create and curate ideas using satire and content creation in order to expand freedom of expression online, to advocate for social justice,  and to increase young people's access to alternative information ahead of the Kenyan elections.
GOAL/PURPOSE
The Media-Tech Hub Project seeks to engage Satire Creatives from Kenya who will create satire web-series in a virtual collaboration with creatives from Magamba Network who are based in Zimbabwe.
SPECIFIC TASKS
The Co-Creation activity will consist of the following main tasks:
Participate in peer learning sessions for co-creation with journalists and creatives from Kenya and Zimbabwe.
Collaborating online to create content in the form of satire videos on identified topics from the co-creation activities.
EXPECTED OUTPUTS
The expected outputs under the innovation lab are as follows:
Co-creation activities for online content.
Produce a 3-episode satire web series.
SKILLS AND QUALIFICATIONS
The creatives will be admitted based on the following considerations:
Composition

Teams with not more than 3 members with at least 1/3 representation of either gender.

Education

All team members must have at least a degree, diploma or TVET certificate related to web and graphics
design, animation, journalism, communication and media or other related areas.

Experience

At least 1 team member must have minimum 3 years of satire creation or satire writing
Minimum 3-4+ years in a creative role at an agency or brand team with strong working knowledge of
Photoshop and Illustrator; video/animation skills a plus
A creative work portfolio that showcases excellence in compelling ideas and visual storytelling,
including previous work in satire

Core competencies

Professionalism: strong expertise in the development of web-based applications and on-line services with
good analytical skills and ability to solve problems.
Planning and organizing: ability to plan activities, work to tight deadlines, handle concurrent
requests, and manage conflicting priorities.
Communication: Strong communication skills, and the ability to work well both independently and in a
cross-functional team environment across time zones and/or remotely
Teamwork: good interpersonal skills and ability to establish and maintain effective working relations in
a multicultural, multi-ethnic environment with sensitivity and respect for diversity.
APPLICATION PROCEDURE
NB: Only applications that follow these steps will be considered
Applications are only accepted online through the Media-Tech Hub – Innovation Lab
Applicants will be expected to provide an elaborated work plan, budget, schedule of pre and post production, and a plan on how they will popularise the -+3-episode web series to reach a wider audience
Successful applicants will be contacted by the project team and linked to the creatives in Zimbabwe
Successful applicants will be awarded a grant
GRANT MODALITIES
Successful applicants will be issued with a Grant Agreement
60% of Grant amount to be paid upon signing of Grant Agreement. 40% of Grant amount to be paid on completion of the assignment
COPY RIGHT
All materials produced or provided to participants in the scope of co-creation period (including images, videos, text, etc.) are copyright of Transparency International Kenya. No part may be reproduced, copied, transmitted in any form or by any means (electronic, mechanical or graphic) without the prior written permission of TI-Kenya. Creatives are advised to use open source tools and open content to avoid the risk of rights infringement. Submitted innovations will contain no material from other copyrighted works without a written consent of the copyright holder. The participants will obtain such consents at his or her own expense. Any obligations associated with permissions, such as free copies, will be the responsibility of the applicant.
GRANT DURATION
1st July 2022 to 1st September 2022
COMPLAINTS PROCESS
This call for Expression of Interest does not constitute a solicitation and TI-Kenya reserves the right to change or cancel the requirement at any time during the EOI process. TI-Kenya also reserves the right to require compliance with additional conditions as and when issuing the final solicitation documents. Submitting a reply to a call for EOI does not automatically guarantee receipt of the solicitation documents when issued. Invitations to bid or requests for proposals will be issued in accordance with TI-Kenya rules and procedures. Any grievances and or complaints arising from the evaluation process and the final tender award can be addressed, in writing, to the Executive Director and the TI-Kenya Tender Complaints Committee.
Executive Director
Transparency International Kenya
Kindaruma Road, Off Ring Road Kilimani, Gate 713, House No. 4
P.O. Box 198-00200, Nairobi
Or Email complaints@tikenya.org